Jurassic World: Dominion Dominates Fandom Wikis - The Loop
Play Sound
Full Name
Walter Longmire
" I am 911."
―Walt Longmire
Walt Longmire is the Sheriff ofAbsaroka County, Wyoming and the main character of Longmire.
Life Before 2012
[
]
Absaroka County native Walt Longmire is the well-respected sheriff that resides there. His father was a rancher who managed the stables of Absaroka County's most wealthy family, the Van Blarcoms. When Walt was 12 years old, he became good friends with Henry Standing Bear. Walt graduated from Durant High School, and his football jersey still hangs in the school's trophy case. He later married Martha Longmire and had a child, Cady Longmire. 
In 2010, Walt arrested Malachi Strand, the Chief of the Cheyenne Reservation Tribal Police, for extortion. At some point, Longmire also developed an adversarial relationship with the next CRTP Chief, Mathias.
Martha passed away in Denver in 2011. This loss, and the complications associated with it, led to him becoming withdrawn from the world. His daughter moved to Durant to take care of him and comfort him. It was not until Pilot that Walt returned to the world.
2012 Onwards
[
]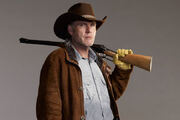 Laconic and introspective with a strong sense of duty and justice, Walt is a force to be reckoned with. He is an able detective, who has a knack for finding the truth behind the various crimes that have been committed in his county. As Sheriff, Walt carries a Colt Government Model in .45 ACP and a Winchester .30-30 as his primary weapons, and drives a 1994 Ford Bronco as his duty vehicle and personal vehicle.
In 2012, Walt ran for re-election against his own deputy, Branch Connally. Walt had delegated most of the day-to-day police duties to Branch, Deputy Ferguson, and Deputy Vic Moretti. The election results were very close, but resulted in a victory for Longmire.
Walt became the subject of an ongoing investigation by Denver PD Detective Fales for the murder of Miller Beck, a meth-head who was suspected of killing Martha Longmire.
Relationships
[
]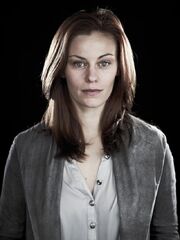 He has a daughter, Cady Longmire, who works as an attorney who works for a local law firm.
Walt's closest friend and confidant is Henry Standing Bear. They have been friends since they were 12 years old.
Lizzie Ambrose held a brief romantic relationship with Walt but broke it off after she thought Walt was cheating on her and sleeping with Vic Moretti. In late 2011, Walt had hired Vic Moretti, a former Philadelphia PD homicide detective, as a Deputy Sheriff. The two are believed by some to be having romantic relations, including at one point Vic's husband, Sean Keegan.
Walt's relationship with the Cheyenne Nation is strained, but he is still liked by many members of its community.