Jurassic World: Dominion Dominates Fandom Wikis - The Loop
Play Sound
"The white man claiming the red man's jurisdiction as his own. What a surprise."
―Mathias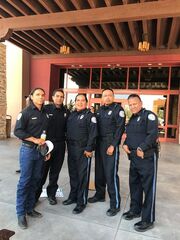 Mathias is a recurring character in Longmire.
Biography
[
]
Mathias is the police chief of the Cheyenne Reservation Tribal Police. He oversees all cases that happen on the Cheyenne Reservation in Absaroka County.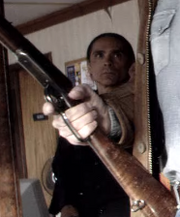 Before 2011, Mathias worked as a deputy for the Cheyenne Reservation Tribal Police under the chief at the time, Malachi Strand. He was present when Walt Longmire and Henry Standing Bear arrested Malachi for Extortion.
In 2013, Mathias arrests Henry Standing Bear, Walt Longmire's best friend and owner and operator of the Red Pony. This was done at the behest of Denver PD Detective Fales for the murder of Miller Beck, the meth-head accused of murdering Walt's wife, Martha.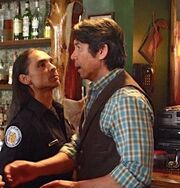 In 2016, Mathias catches Henry Standing Bear as the Reservation's new Hector after finding his truck abandoned with blood in the front seat that matched blood at the crime scene he helped Walt investigate on the rez, He strikes a deal with Henry, to continue to be Hector at Mathias' will, in exchange for not sending his blood sample to the FBI.
Mathias is called to the scene of the overdose of Jim Pine, the father of fourteen year old Mingan Pine. He calls Henry Standing Bear to the scene after requesting to be more involved in cases on the Cheyenne Reservation. He requests Henry as the new Hector to go after Joey Takoda, a drug dealer who has been distributing Heroin on the rez. After Henry refuses, Mathias explains that he has arrested Takoda three times before, but since the tribal police can only deal with misdemeanors, he was forced to release him.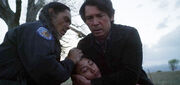 Later, Mathias is seen further into the rez as Henry pulls up after an apparent call to meet there. He is visibly distraught as he looks up at Mingan's corpse. Henry pleads for Mathias to help, but he knows there's nothing he can do. He lets his grief turn into frustration and shoots his sidearm at the tree trunk and deflates soon after. Mathias climbs the tree to cut the noose. Then, the two men mourn over the boy and he is seen speaking, implied to be a prayer.
"Children look at their lives and see no future. No one stepping up, nothing ever changing. How am I supposed to protect them?"
―Mathias
In 2017, Mathias is called to Cady Longmire's office after she had shot J.P. Wright out of self defense and takes her and Asha Wright to the Cheyenne Reservation Tribal Police station. He seizes the gun gifted to Cady by Jacob Nighthorse and takes them into a back room to take their statements. Later they get news that J.P. Wright has died during surgery and has to hold Asha back from fighting Cady.