Jurassic World: Dominion Dominates Fandom Wikis - The Loop
Play Sound
Relationships
Deena
(Dated but broke up)
"It is a beautiful day at the Red Pony and continual soiree."
―Henry Standing Bear
Henry Standing Bear is one of the main characters in Longmire.
Biography
[
]
Henry is an old friend of Walt Longmire and his most trusted ally. The two have been friends since they were 12 years old. Henry is a member of the Cheyenne Reservation in Absaroka County. He is the owner and operator of the Red Pony, a popular local tavern. He has an unusual speaking quirk where he doesn't use contractions, which is speculated to be because he wants people to know exactly where he stands and his words not to be misconstrued.
Henry went to college at UC Berkeley, but it is implied that he was drafted and went to the Military Assistance Command, Vietnam-Studies and Observations Group better known as MACV-SOG for four years.
Henry has multiple military devices "It's true he is government trained to be involved in these kinds of covert operations.' I pointed to the frame that boxes behind the bar that contained a burnt map of North and South Vietnam, Laos and Cambodia, on this map were Henry's Special Forces pin, Purple Heart, Army Distinguished Service Cross, Vietnamese Cross of Gallantry, and assorted campaign medals."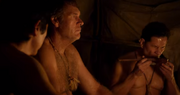 In 2011, Henry, Walt Longmire, Jacob Nighthorse and a few other Cheyenne men take part in a sweat together.
In 2012, Henry helps Walt partake in a sun dance ceremony after Cady's hit and run accident, despite the fact the sheriff wasn't Cheyenne.
In 2013, Henry was arrested by Mathias, the Chief of the Cheyenne Reservation Tribal Police. This was done at the behest of Denver PD Detective Fales for the murder of Miller Beck, the meth-head accused of murdering Walt's wife, Martha.
Henry defends Vehoe Roundstone when Walt accuses him of murdering one of his sister (Ayasha Roundstone)'s rapists.
In 2016, Henry was caught acting as the new Hector by Mathias after reporting his green 1958 Chevy Apache pickup as missing. After finding blood in his truck that matched the crime scene, Mathias takes him into custody and drives him out to where he was shot. Mathias explains the evidence he has against him and that he had found his truck where Henry had stashed it, and fixed his punctured fuel line that forced him to stash it in the first place. The police chief explains that jail is still on the table for the assault and murder of Tyler Malone, but offers him a deal- work for him as Hector doing whatever he asks. Henry believes Mathias is overplaying his hand, since he isn't able to prosecute felonies, but he has a blood sample taken as evidence (and incentive).
Walt Longmire asks Henry to drive him out to where the oil rig that Gabriella Langton's rapists worked. The rig had seemed to dissapear almost completely, leaving only the indent in the ground. They meet Doug, who is driving a construction vehicle upon their arrival, who explains that Newitt Energy called off production after deeming the wells unproductive. Mathias calls with a job for Hector, telling him to meet him in forty-five minutes. Walt tells him he needs a ride to Newitt Headquarters and Henry turns him down, explaining he has somewhere to be.
Mathias' job for Hector was to retrieve a single antique piece of pottery from a residence where no one was home. Upon taking said request, he finds that there are hundreds of pots at the site, which appeared to act as some sort of warehouse. Someone saw him break in and points a gun at him, telling him to take off the mask to which he refuses. Hector throws a piece of pottery at the man and wrestles him for the gun, before shooting in the air and fleeing the scene. The next morning, Henry argues with Mathias about the fact that he was put in danger, but Mathias doesn't give him an apology like he's hoping for.
Henry later sneaks into Malachi Strand's office to look for The Red Pony's financial records, per a deal with Jacob Nighthorse, before being interrupted by Mathias. He explains that upon arriving at the scene that Henry robbed the night before, that there were only three artifacts found, all authentic but purchased from the black market. He scolds Henry, explaining that he drove the thieves underground and that he is concerned that Hector doesn't fully appreciate the deal that they made. Mathias reiterates the conditions- that he's supposed to be a stealthy asset to crime, not to drive the bad guys into hiding. Henry argues that the police chief didn't explain exactly what he expected from him, to which Mathias explains and warns him that he has one more chance before he sends the blood samples to the FBI.
Henry is met by Mathias later that night. He gives the mask to him, explaining that he won't need it any more once he's in jail, as he's backing out of their deal. Henry tells him that he would rather be in prison than be manipulated and exploited. He apologizes to Mathias, telling him he knows that this puts him in a difficult position- arresting Hector- as he knows he is having trouble getting people on the Cheyenne Reservation to trust him. Mathias catches on to his way of renegotiating the terms of their arrangement.
Cady Longmire asks Henry for help finding an office building to rent on the Cheyenne Reservation so she can set up her Legal Aid center that was funded by Jacob Nighthorse. Cady tells him that that Jacob gave her seven hundred and fifty thousand dollars for the aid center. Henry turns away, surprised, before telling her that Nighthorse made a lot of promises to the tribe and that the casino checks were about seven hundred and forty five thousand less than hers. She explains that she wants to put the money back into the community. Henry explains that she may need to be non-traditional in her way of thinking.
Henry waits at a potential office location to meet Cady. She insists that she would have found it, but he clarifies he was worried about her safety. He states that he loves her like a father. He shows her a foreclosed house. Upon asking if there were any other options, he tells her that the only options are more foreclosed houses, worse than the one they were viewing. Henry gets a call from Nighthorse, who wants to talk about their suspicions of Malachi Strand.