Jurassic World: Dominion Dominates Fandom Wikis - The Loop
Play Sound
The Absaroka County Sheriff's Department is the primary law enforcement agency in Absaroka County. It is located in Durant, Wyoming. It is the primary hub of the main characters in Longmire.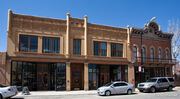 The Station
[
]
The station is a small segment of a building, located mostly on the second floor. It was a library before it become the Sheriff's office. Given the small size and floorplan of the rooms, the holding cells are located practically in the middle of everything (for better or worse).
Sheriff's Department parking is on the street, typically on the opposite side of the road from the building.
Equipment
[
]
The uniform of the Absaroka County Sheriff's Department appears to be a khaki long sleeve shirt with epaulettes and a department patch on each sleeve, paired with matching flat front khaki trousers and a brown tie with a gold tie bar. The badge is centered over the left breast pocket and a gold name tag is centered over the right pocket. A stack of spare shirts of this type can be seen in "The white warrior" when Longmire changes shirts at the station. He can also briefly be seen wearing the full uniform before the town hall debate in "Tell it Slant". In this same episode Longmire wears four small stars on each collar point as rank. Branch wears an identical uniform except with blue jeans and his hat during public appearances.
The typical uniform of each deputy is consistent through the series but radically different from the standard or each other. The sheriff and each deputy wear blue jeans, Longmire usually seen in a blue long sleeve work shirt and brown overcoat with his star pinned to the coat. He wears a brown Stetson style hat, a brown basketweave garrison belt with his pistol on the right in a brown leather molded holster, and a brown combination spare mag and handcuff case on the right. He is armed with a Colt Government Model with Stag grips, and a Winchester 1894 Rifle.
Deputy Victoria Moretti wears a khaki shirt with button up rolled sleeves. Despite this shirt being clearly not an issued item the department patch is present on each shoulder. She wears her name tag centered over the right pocket and her badge on a belt holster. Occasionally she will wear a brown bomber style jacket with department patches on each sleeve. Her Garrison belt is smooth brown leather with a black leather holster and handcuff case. She is armed with a Glock 19 pistol.
Deputy Branch Connally wears a light khaki long sleeve shirt without pocket flaps. Department patches on each shoulder, name tag pinned to the top edge of the right pocket and badge centered over the left. He wears a black basketweave Duty Belt with a radio, holster, spare mag case, cuff case and several other pouches. He is typically seen wearing a tan Stetson style hat, and occasionally a brown bomber style jacket with the collar. He is armed with a Smith and Wesson Sigma.
Deputy Ferguson wears the issued shirt with a brown 1.5" leather dress belt. He wears a holster for his Smith and Wesson Model 29 revolver, but no other equipment. He can be seen wearing a brown carhart style jacket with department patches on each sleeve.
Vehicles
[
]
1994 Ford Bronco Used by Sheriff Longmire from the pilot to present. Equipped with a radio, siren, small dash mounted led red/blue flasher, and a rifle rack. Shown to have a prisoner transport cage installed temporarily in "Unquiet Mind".
2011 Dodge Charger Used primarily by Branch during his time with the department.
2010 Chevrolet Tahoe Destroyed in episode 4 of the second season. Used by Vic until that point.
2013 Ram 1500 Replacement for the Tahoe, used by Vic.
1979 Pontiac Firebird Trans Am. Personally owned vehicle used by "The Ferg" Ferguson, equipped with a vehicle radio and sun visor light. Seems to be used as a patrol and pursuit vehicle.
2016 Dodge Charger seen in Season 5 only, driven by "The Ferg" Ferguson as his duty vehicle.
All Vehicles were slicktop vehicles and had lights and sirens inside the car
Present Staff
[
]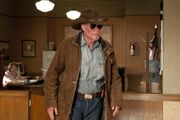 Past Staff
[
]
Sheriff Lucian Connally (retired)
Deputy Branch Connally (deceased)
Deputy Zachary Heflin (fired, due to behavior)
Cumberland County Deputy Eamonn O'Niell (on loan from Sheriff Wilkins)